The spread of COVID-19 is is ongoing. If you suspect that you may have contracted the novel coronavirus (SARs-CoV-2), the best thing you can do is get tested right away. What better way to do this than from the safety and comfort of your own home? With Hydreight, we come to you with COVID-19 Rapid Testing.
Rapid Antigen Test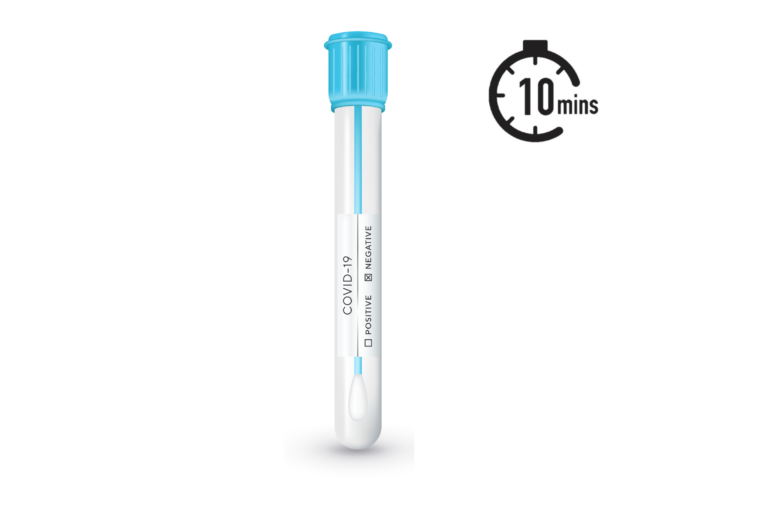 A lower nasal swab test that detects active COVID-19 infection. This point of care test results almost instantaneously, offering results in just 10 to 15 minutes.
COVID COCKTAIL
Packed with high dose Vitamin C, B12, B Complex, Vitamin D3, Zinc, Magnesium, Amino Acids, and Glutathione, this infusion is your secret weapon to fight off illness and feel better faster.
Anti nausea and NSAIDs are also added to the infusion to help with muscle cramping, fever, and upset stomach.
Get tested in your home, office or another location and help stop the spread of COVID-19.
How Rapid COVID-19 Testing Works
Our Antigen Test detects specific proteins from the virus.
When you choose Wel Palm Beach, all fees are included in one price, including nurse travel, lab fees and the test itself. COVID-19 Rapid Testing is easy with these three steps:
Step 1: Call us, and one of our registered nurses will come to you to provide an in-home test.
Step 2: An Antigen Test sample will be processed on site.
Step 3: For Antigen Test clients, results are ready in 10 minutes.Wel Palm Beach
Antigen Test
Whether you're a front-line worker or work closely with others, when you can't wait for COVID-19 test results, our Antigen Test gives you the answers you need fast for just $175. The test involves inserting a short nasal swab into your lower nostril. The swab is left in for a few moments to ensure a proper mucous sample is obtained. Results can then be processed in just 10 minutes.
A negative test result means that no nucleocapsid protein antigens were detected, and you likely do not have an active COVID-19 infection. A positive result means that you likely have an active infection and should immediately quarantine.
The Antigen Test fee of $175 is not covered by insurance, however some insurance providers may reimburse patients.
Individual and Group Discount Pricing
If your family or your office has been exposed to the coronavirus, everyone should get tested. Wel Palm Beach can come to your home or office for group or corporate testing. We offer special group testing rates, so call or text us at (561)639-2115 to learn more.
Who Should Be Tested for COVID-19?
While you don't need to be tested for COVID-19 every time you step outside your door, there are a few situations where COVID-19 Rapid Testing from Wel Palm Beach should be utilized:
If you have symptoms of COVID-19, including fever, cough and shortness of breath.
If you've had close contact for at least 15 minutes with someone who's contracted the virus.
If your healthcare provider refers you for testing.
If you're traveling to and from COVID-19 "hot spots."
If you're traveling to a destination that requires a COVID-19 test result.
If you work in the same office with someone who has contracted COVID-19, we offer corporate and group plans to put your mind at ease.
Tips for Protecting Yourself and Others From COVID-19
There are many preventative measures you can take every day to protect yourself and others from contracting COVID-19:
Understand how it spreads: COVID-19 spreads easily from one person to another through respiratory droplets produced when an infected person breathes, talks, sings, sneezes or coughs. These can be inhaled or deposited inside your nose or mouth when in close contact.
Wash your hands: Wash your hands using soap and water for 20 seconds. Hand sanitizer can also be used when a sink is not available.
Avoid close contact: Put at least six feet of distance between yourself and those who don't live in your home.
Wear a mask: Wear a mask when in public or around those who don't live in your home.
Clean and disinfect: Disinfect surfaces that are frequently touched, such as doorknobs, light switches, keyboards and phones.
Get tested: If you meet the above criteria for getting tested, contact Wel Palm Beach right away for COVID-19 Rapid Testing.
Take our immune-strengthening IV package: While we don't know everything about the virus right now, our immune-strengthening IV package can boost your immune system and aid in your recovery from a wide range of illnesses.
Get Your COVID-19 Results Fast With Rapid Testing
If you don't want to drive to a local testing center, let our experienced team of registered nurses come to you. COVID-19 Rapid Testing ensures you get your results back fast so you and your family can have peace of mind. Book your COVID-19 test online or call or text us at (561)639-2115.